Business Directory

Welcome to Almaden Valley

One of Silicon Valley's most attractive residential areas, the South San Jose community of Almaden is distinguished by rolling hillsides and a rural Old California ambience. "One of the most gorgeous landscapes in America," the Greenbelt Alliance calls the Almaden Valley, most of which falls into the 95120 zip code and is incorporated into the City of San Jose. The key local attraction is Almaden Quicksilver County Park, which contains remnants of a historic mercury mine that produced more than $75 million in mineral wealth from the Gold Rush era to the 1970s. The San Jose mine's name came from the Almaden Mine in Spain.
Almaden Valley Homes & Real Estate
Almaden Valley is one of the most desirable neighborhoods in San Jose, California -- or anywhere. Many homes are in the $1 million-plus range, with a few in the high six figures. With its ideal climate, highly regarded schools and quiet neighborhoods, Almaden Valley represents an opportunity to experience the classic California lifestyle.
Almaden Valley Area Golf Courses
Almaden Valley residents and visitors are well served by some of Northern California's best golf courses. Among the options: Prune Ridge Golf Club, Coyote Creek Golf Club, Santa Teresa Golf Club, Los Lagos Golf Course, San Jose Municipal Golf Course and Cinnabar Hills Golf Club. And the world-renowned Pebble Beach is around an hour away!
Almaden Wineries
Almaden Vineyards, California's oldest winery, has associated the Almaden name with California winemaking since the mid 1800s. The world famous Mirassou winery was located here as well. Though Mirrasou and Almaden Vineyards, which popularized America's first blush wine, were displaced by housing, small vineyards maintain the legacy in and around the Almaden Valley, which offers an ideal climate for wine grapes.
San Jose Hotels
Almaden Valley visitors can choose from local lodging options ranging from budget hotels and motels to luxurious retreats. Los Gatos is nearby, offering some cozy charmers. And in the business mecca of Silicon Valley, with its national and international conferences, most hotels offer first-rate business resources.
San Jose Restaurants
San Jose Area Dining Guide: SanJose.com offers a comprehensive dining guide to San Jose area restaurants, including reviews from Metro, Silicon Valley's weekly newspaper. And Almaden's own La Foret Restaurant on Alamitos Creek is a regional dining destination.
Almaden Valley Newspapers
The Almaden Valley is covered by two neighborhood newspapers, the Almaden Times and the Almaden Resident, as well as regional publications like Metro Silicon Valley and the San Jose Mercury News. NBC11, also known as KNTV, is among the broadcast stations covering the region.
Almaden Valley Art & Wine Festival
Each September, Almaden Valley residents enjoy the Almaden Valley Art & Wine Festivas, one of the San Jose area's favorite events. The 2008 festival will be held September 21, 2008 at Almaden Lake Park.
New Almaden
New Almaden, now a National Historic Landmark district, was California's first mining operation – the largest quicksilver (mercury) mine the world has even known. New Almaden's mines date back to 1845, and exploded following the Gold Rush of 1849, since mercury was needed to process gold and silver. New Almaden was a very unusual mining town. The residents lived in a bucolic company-owned community, and their lives were overseen by company-sponsored organizations. The company headquarters, known as "the Hacienda," was designed by John McLaren, who later helped build Golden Gate Park. Today, New Almaden's mining legacy can be seen at the Hacienda, "as well as the historic homes of the mining community along Alamitos Creek.
Almaden Quicksilver Park
Almaden Quicksilver Park provides scenic hiking and biking trails, picnic spots, historical remnants of the area's mercury mining days and a spectacular wildflower display in springtime.
IBM's Almaden Research Center
One of IBM's largest research centers and one of eight worldwide, the Almaden Research Center sits on 690 acres in the Almaden Valley foothills. The research center specializes in both basic research in material science and applied research in computer storage. Pioneering research in hard disc drive technology, relational databases and nanotechnology occurred at the Almaden Research Center.

Almaden Valley Schools
The Almaden Valley is served by two public high schools, Leland High School and Pioneer High School, as well as three middle schools: Bret Harte, Castillero and Challenger. Almaden Valley residents attend the following elementary schools: Los Alamitos, Guadalupe, Simonds, Graystone, Williams and Challenger School.

Almaden Valley Organizations
Almaden Valley Community Directory: Neighborhood associations and clubs.

Santa Cruz Vacation Rentals
Special discounts on beach homes and vacation rentals from SantaCruz.com.

San Jose Area Attorneys
A directory of attorneys in the San Jose area.

San Jose Dentists
San Jose dental services, tooth whitening, San Jose cosmetic dentistry, orthodontics and local family dentistry.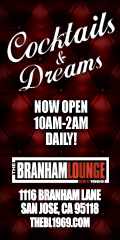 Italian Food and
Family Fun